Consumers must have their need for information satiated and nowadays, they do most of their quest for more data online. For medicines, one of the top authority sites recognized all over the world is the website called Drugs.com, an informative platform where individuals can gain access to a wide database of information for medicines. Let's find out more about this platform today.
Drugs.com Wiki: What is this website?
Drugs.com is described as a comprehensive source of drug information and "accurate and independent data" for over 24,000 drug types including prescription, non-prescription, and even herbal products. According to Wikipedia, this platform is owned by the company Drugsite Trust privately owned by two pharmacists from New Zealand named Philip James and Karen Ann Thornton.
Drugs.com Website
This platform somewhat functions as a "pharmaceutical encyclopedia" where regular individuals and health care professionals can source accurate information about their medicines. Drugs.com hosts content from various authoritative sources including (but not limited to) the US Food and Drug Administration, Mayo Clinic, Harvard Health Publications, and Micromedex.
The Drugs.com domain was actually registered since 1994 but was only officially launched in 2001. The US FDA collaborated with the company in May 2010, which allowed Drugs.com to disseminate consumer health updates via its website and its mobile platform.
Because of its service, Drugs.com was recognized as the 6th most popular "health network" due to its 23M visitors monthly. In 2017, this website was also recognized as the "Health Information Website Brand of the Year", reinforcing its credibility and importance in the health and the pharmaceutical field.
Some of the free services offered by this platform include the following:
Drug information: drug list, dosage, side effects, pregnancy warnings, inactive ingredients, pricing, coupons, and others
Tools: pill identifier, symptom checker, forums, medication records, compare drugs, interactions checker, and others
News and alerts: FDA drug alerts, medical news, clinical trial results, new FDA approvals, and others
Professional resources: medical dictionary, patient care notes, medical conferences
…plus other resources for consumers, professionals, researchers, and more
Drugs.com offers invaluable service to individuals all over the world, and for no added cost.
Drugs.com Tramadol, Drugs.com Xanax: What does this website have to say about these drugs?
To test the usefulness of Drugs.com, we tried searching a few medications on the platform to see if Drugs.com is indeed able to offer comprehensive information about these medications.
Tramadol
According to Drugs.com, Tramadol is a "narcotic-like" pain drug used for the remedy of moderate to severe pain. It can be used as needed, but it is prohibited in patients with severe breathing or lung problems, have recently taken sedatives, alcohol, narcotic drugs, MAO inhibitors, and several similar medications.
Although effective for pain relief, Tramadol is notorious for altering a patient's breathing pattern and may cause physical dependence or addiction. Other side effects of Tramadol include the following:
Dizziness
Headache
Drowsiness
Tiredness
Constipation
Vomiting
Stomach pain
Anxiety
Nausea
As for the recommended intake of the drug, patients are given 50-100 mg of the drug every 4-6 hours. However, a more flexible dose of Tramadol is recommended in patients, although not exceeding 400 mg per day. Also, patients younger than 12 years are not administered this drug.
Tramadol is supplied in capsule, liquid capsule, and tablet form and is taken orally.
Xanax
Another drug we've attempted to research on Drugs.com is Xanax. According to the platform, this drug is classified as a benzodiazepine due to its Alprazolam content. Xanax is primarily used in the management of patients with panic and anxiety disorders or other disorders related to depression.
Patients with the following medical conditions may be prohibited to take Xanax:
Epilepsy
Glaucoma
Patients taking antifungal medications
Patients with allergy to benzodiazepines
patients with liver or kidney disease
epileptic patients
Besides the following, patients who are pregnant or nursing are prohibited to take the drug since it may cause birth defects and may allow the infants to suffer drug dependence. Patients below 18 are also prohibited to use Xanax.
Common side effects identified in patients taking Xanax include the following symptoms:
tiredness
drowsiness
slurred speech
lack of balance or coordination
morning anxiety
memory problems
The common dose for Xanax use is 0.25 to 50 mg 3 times a day for patients suffering from anxiety. This dose may be increased in 3-4 days depending on the response of the patients. On the one hand, Xanax is recommended in 0.5 mg doses, 3 times a day in patients suffering from panic disorders. Maintenance treatment for panic disorders is 1-10 mg administered in separate doses in the course of a day.
Xanax from Pfizer is supplied in 0.25 mg, 0.5 mg, 1 mg, and 2 mg tablets containing alprazolam. It is a prescription-only medication and may cause addiction/physical dependence so it is used only for the short-term.
Drugs.com Forum: What can consumers learn from this site's forum?
Apart from the drug information presented on Drugs.com, the website also allows consumers to post reviews for various medications: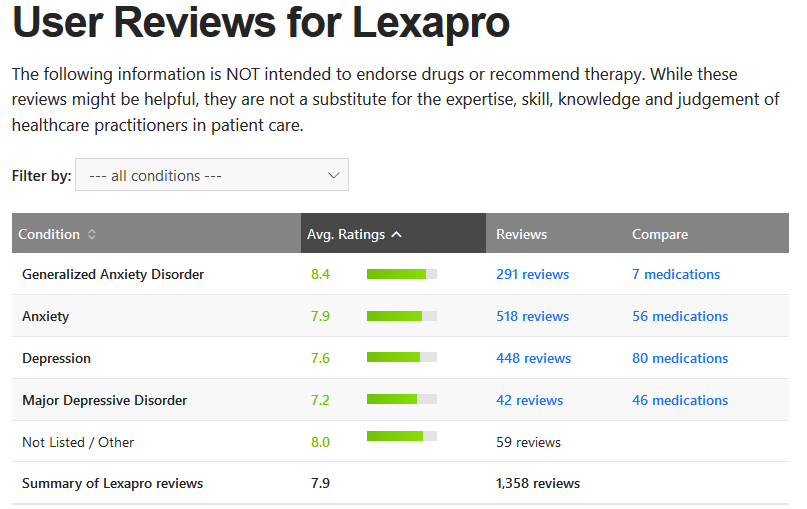 User Drug Review Summary for One Drug
Drugs.com moderates comment boards for consumers. In the example above, we can see that the drug Lexapro garnered 1,358 reviews from consumers. The reviews were segmented depending on the patients' use of the medicines; for instance, Lexapro reviews at Drugs.com included reviews for the drug's use in generalized anxiety disorder, depression, major depressive disorder, anxiety, and other purposes.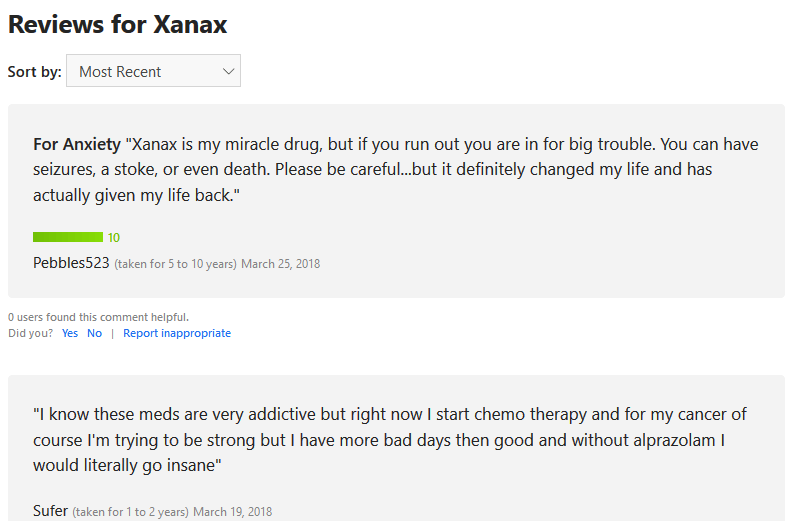 Specific Reviews for Medicines on Drugs.com
Patients were able to write their comments on Drugs.com and were also able to award points to the medicines as they wish. Other users can mark the reviews as helpful or not by clicking the minute "yes" or "no" below the user comments.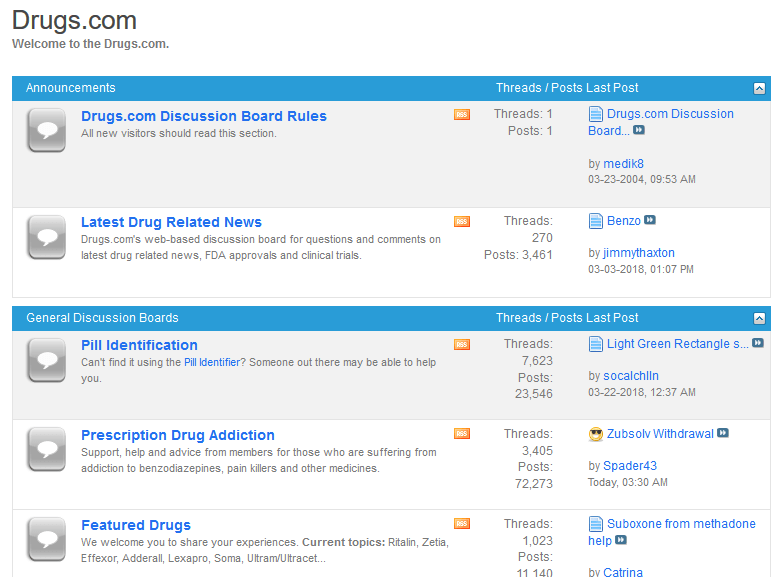 Forums Mediated by Drugs.com
Apart from specific drug reviews, the platform is also hosting a plethora of forums with thousands of threads and posts. Consumers can search for relevant forums they wish to join and are only advised to be mindful of the forum guidelines.
Summary
Drugs.com is a helpful online platform with comprehensive drug information that individuals can use for research or other purposes. However, this platform is not a replacement for doctor consults and the platform does not provide endorsements for online drugstores for drug purchases. If you need recommendations for online drugstores, though, you can use our rundown of Top Online Vendors for the present year.